It is with the spirit of adventure that we decided to try Elementary Spanish 1 for Grades K-2 from Middlebury Interactive Languages.  My kids are not big fans of computer learning, but with the baby #4 almost here I asked them to give it a try to minimize the number of subjects I had to prepare and present myself.  They agreed on a condition that I would do the lessons with them and I agreed.
Online foreign language programs are gaining support and understanding in the fields of bilingualism and education despite the fact that many old school souls still consider classroom training a necessary first step.  It's true that many online learning programs for little kids are filled with fun games and loud videos that are highly entertaining, but offer little in the way of actual learning.  I'm happy to tell you that our experience with Middlebury Interactive Languages is nothing but positive.  So, if you are looking to add an online Spanish program to your life, read on for more details.
What is Middlebury Interactive Languages?
Middlebury Interactive Languages is considered by many to be an academic leader in online language curriculum. According to 2010 New York Times article Middlebury Interactive Languages was the result of venture between Middlebury College in Vermont and a technology based education company.  Their goal was to help American kids learn foreign languages.  The program aligns with the Federal Common Core standards and with the standards of the leading world language and digital learning organizations.
In just a few years Middlebury Interactive Languages became the nation's largest provider of online foreign languages education for K-12 students for both schools across the country and online learners.  Last year they were even selected by the Florida Department of Education as statewide provider of middle and high school foreign language courses.  
At the moment Spanish, German, Chinese and French classes are offered.   Each course is available for purchase in two forms: with teacher guidance and without.  A teacher provides feedback, help with the lessons, support and encouragement.  With your purchase you get access to the self-paced, immersive course for one or two semesters.  We reviewed the Elementary Spanish 1 for grades K-2 and all future references are to this course.  
Elementary Spanish 1 for grades K-2
The elementary Spanish 1 consists of 35 days of content.   There are 12 units on a wide range of subjects including greetings, numbers, family, colors, school, body, animals, calendar, food, and descriptions.  Unit 6 and Unit 12 are review units.  Each unit has 6 lessons.  And each lesson is designed to deliver what they call "an interactive experience:" a combination of engaging video story, colorful games, songs and practice activities.   
The navigation of the site is intuitive.  When you see it, you know exactly what to do.  But to be on a safe side, you conveniently get detailed instructions to help you get started with your course.  
Once you purchase a course, members of the team set up your account and send you login credentials.  When you login, the left side of the screen shows the list of all the units by topics and the lessons included in each unit.  When you select your lesson, the screen shows all the assignments that are part of that lesson.  As they are completed, the check mark appears in the center of the image.  
The graphics are colorful and engaging.
The short, colorful videos complement and enhance the lesson.  Created in an animated fashion they present material completely in a foreign language without any translation.  The idea is to use context to figure out the meaning.  Subtitles in Spanish appear on the screen and offer plenty of repetition of the words to be learned.   
The pages that focus on vocabulary acquisition and practice usually have instructions in English.
You can record yourself speaking newly learned words, hear your recording and compare them with the lesson audio.   
Some additional resources that might be beneficial for you are:
Calendar – which suggests the optimal schedule for you and

Gradebook for quizzes – if you would like to keep track of your progress.
What We Thought
Our first adventure into the world of online Spanish learning was entertaining and educational.  So, if you are looking for a self-paced, online foreign language program for kids, I recommend this program.  Middlebury Interactive Languages makes learning at home fun and easy.  Some of the things that stand out about this program:
The course is very well organized and easy to navigate.

 

It offers Interactive learning through the multimedia approach, which includes video and images, text and audio, as well as typing and recording.  
No lesson prep is required off parents and the program is designed to be used by kids alone without any parental help (I just did it with the kids because a while go we decided to make learning Spanish all together a family activity).  
The fairy tales and folk tales were kid friendly and all of the practice activities offer meaningful learning in a context of a world culture.  
The program keeps kids interested for the duration of the whole lesson.
Slow progression makes it a good choice for little learners.  
We didn't not get a teacher option with this review, but if I were buying this course, I would have definitely paid extra for conversation practice with a real teacher.
One of the most important, but often ignored factors when it comes to online learning, is the loading time.  This program is quick and waiting time is non-existent.  
The only thing I didn't like about it is that it's pretty expensive for a program with such a short deadline. If after purchasing the course, you decide that it would be a better fit, if your child completed the program the following year, you lose the money.  The program offers a great value and it deserves to be priced accordingly, but I think it should come with a lifetime access.  
To learn more about the company, you can visit their social media by clicking on the links below:
Facebook: https://www.facebook.com/Middlebury-Interactive-Languages-141015515949753/
Twitter: https://twitter.com/MiddInteractive   @middinteractive
Pinterest: https://www.pinterest.com/middinteractive/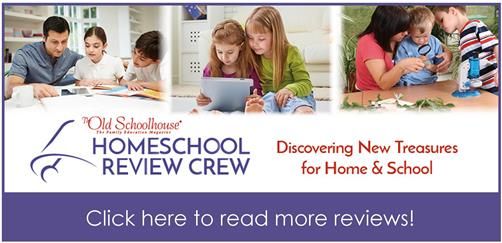 Other members of thel Homeschool Review Crew reviewed this product.  Please, click on the banner above to see what they thought about this program.